This versatile four way merchandiser display fixture shelf gives maximum exposure to impulse items. Panel frames are slotted to accept all Madix Standard Shelves or accessories. The Laminated or Carpeted Deck is 5" high, plus the deck has 'T' mold edge to match kick plate. Shelves not included.
Square top cap between panels is the same finish as the panel frames. Unit ships assembled. Add $107.95 for pallet jack kick plate and $239.10 for locking casters.
Gondola Four Way Unit is a great store fixture designed especially to display all types of merchandise for all types of stores such as: Hardware Store, Clothing Store, Beauty Supply Store, Convenience Store, Retail Store, Grocery Store, Pet Store, Toy Store, and more.
Maximum shelf depth is 12"
Ships unassembled
42"(square base) = 24"(panel width)
48"(square base) = 30"(panel width)
54"(square base) = 36"(panel width)
---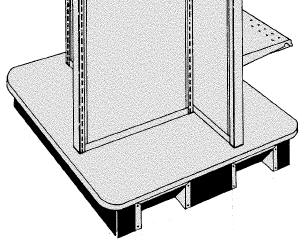 Total maximum load capacity is 1500 lbs. Based evenly distributes static load.