Provides the ability to display on both sided of the shelving unit.
Well known fixture for dividing a store into sections.
Available mostly in 3' wide and 4' wide sections, with a 2' wide and a 30" wide available by special order id needed.
Heights start at 3' high and are able to expand to heights to 8' and beyond.
---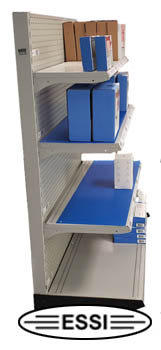 The Gondola End Cap is configured of a Madix or Lozier Single Sided wall section that sits up against and existing Madix Gondola Section.. Madix End Caps are available in 3' wide and 4' wide sections and heights from 36" to 96" high.